Temporary Digital ID Cards
Why issue temporary ID cards?
Many companies are looking for temporary digital ID cards that can be managed and issued through an online platform. Similarly, business admins are aware that providing physical ID cards to temporary workers can be costly and time-consuming.
How to issue temporary ID cards?
Luckily, with ID123 card admins can issue digital ID cards to mobile devices and manage them online through the ID Management System. Also, card administrators can set expiration dates on the digital ID cards allowing them to automatically expire when the date and time arrives.
Additionally, card admins that would like to extend the worker's time in the company can do so by renewing the cards that are about to expire or that have previously expired. Also, admins can select the cards that they would like to renew in bulk or one-by-one.
If a temporary worker needs to be removed or decides to leave before the expiration time and date arrives, the admin can deactivate their mobile ID card from the ID Management System. Therefore, the digital ID card will immediately disappear from the app and will be inaccessible to the former worker.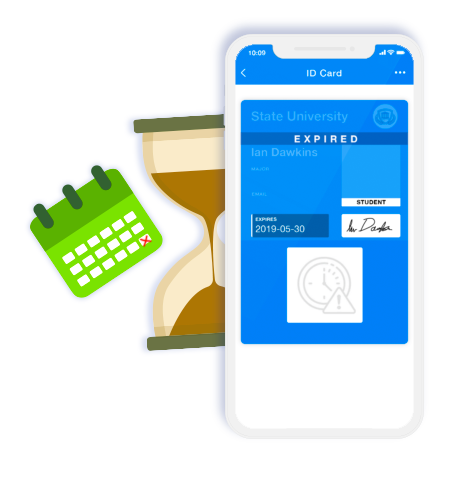 Start issuing temporary digital ID cards!
This is one of the many ways that businesses can take advantage of mobile ID cards. Chat with us to learn more about temporary digital IDs or request an account to start issuing mobile ID cards.