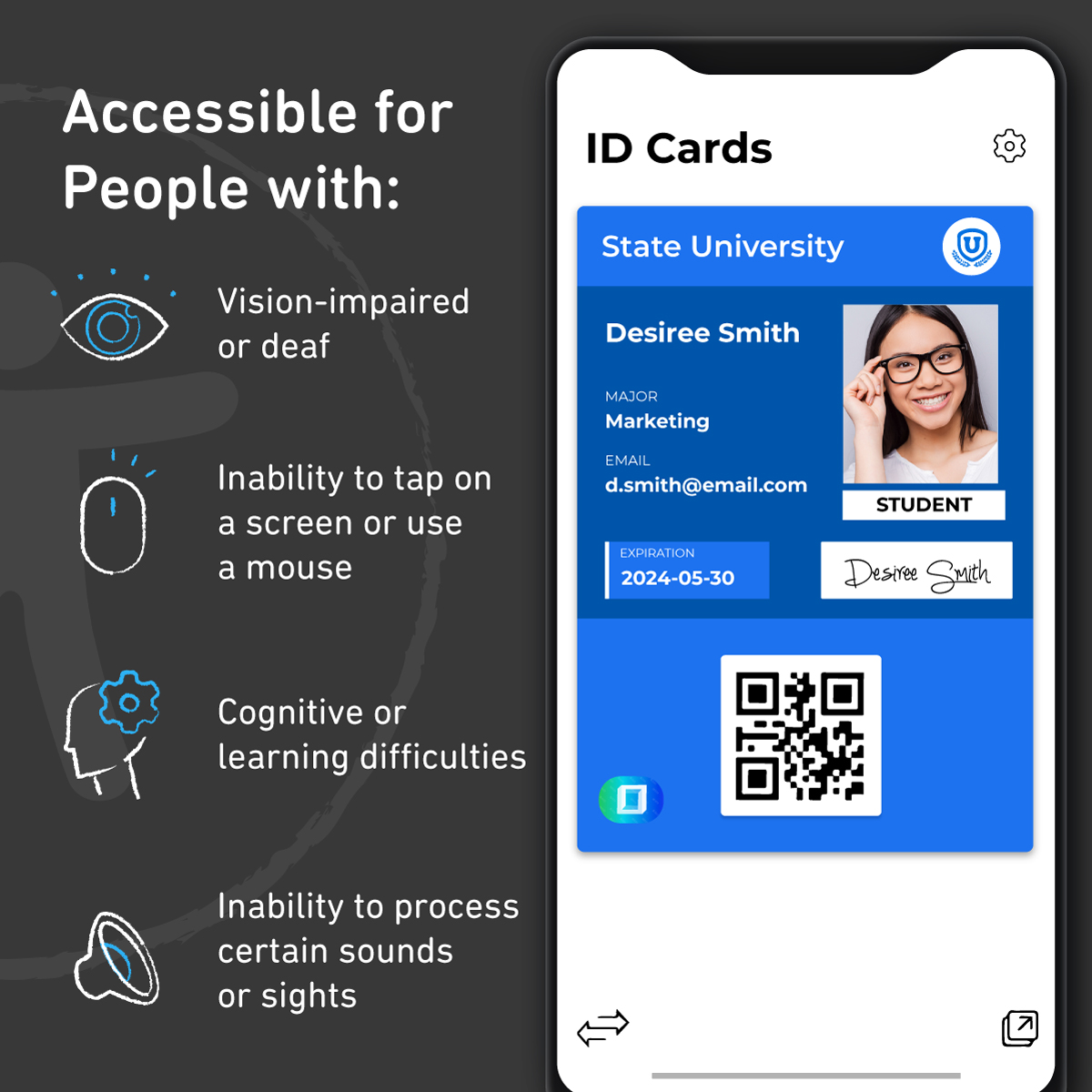 ID CARD APP
Why is Mobile Accessibility Important for Institutions?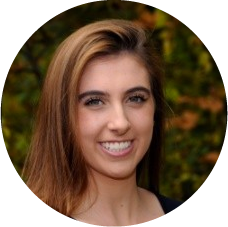 Meg Regan

•

June 21, 2021
According to The World Bank, roughly one billion people in the world experience some form of disability. When creating or buying a mobile app, many institutions overlook the importance of mobile accessibility. This is because creating an app that is accessible is difficult and expensive to do.  It is important for institutions to make sure their mobile app is accessible to everyone. If an app isn't compliant with the current accessibility regulations, you are hindering your users' ability to use your app and your institution could face legal trouble.
Who Needs Mobile Accessibility?
Accessibility involves designing your mobile app for:
People who are sight-impaired or deaf
People with the inability to tap on a screen or use a mouse
People with cognitive or learning difficulties
People with the inability to process certain sounds or sights
What Are the Mobile Accessibility Regulations?
If your institution is new to mobile app accessibility, the accessibility guidelines and legal ramifications of not providing an accessible app are important to know. In the United States, the Americans with Disabilities Act (ADA) is a civil rights law that "prohibits discrimination against individuals with disabilities in all areas of public life, including jobs, schools, transportation, and all public and private places that are open to the general public." In Canada, the Accessible Canada Act is a law that ensures greater inclusion of Canadians with disabilities by preventing accessibility barriers in information and communications technologies. Additionally, the Canadian Accessibility for Ontarians with Disabilities Act (AODA) is a law mandating that organizations follow standards to become more accessible to people with disabilities.
Section 508 of the Rehabilitation Act of 1972 is a US federal law that applies to all federal agencies, public higher education institutions, public K-12 schools and federally-funded non-profits. It requires these institutions to make their electronic and information technology accessible to people with disabilities, including their employees and the public. If your institution is one of those federal sector organizations, you must comply with Section 508. If your institution is not a federal sector organization, but works with one, you must comply with Section 508.
How to Comply with Mobile Accessibility Regulations?
To comply with ADA, AODA, the Accessible Canada Act, and Section 508, your institution's mobile app must meet the Web Content Accessibility Guidelines (WCAG) 2.0 AA. The WCAG's technical guidelines developed by the World Wide Web Consortium (W3C) provide a universal standard for web and mobile accessibility. WCAG 2.1 AA is the current version of its accessibility guidelines which refers to the conformance level that is most commonly required and accepted across the world. These guidelines lay out 50 ways to improve the accessibility of your mobile app.
Is Your Mobile App Accessible?
There are many tools to assist institutions in making their mobile apps accessible and compliant with accessibility guidelines. iOS and Android have accessibility features that help developers in creating apps that meet the needs of people with disabilities. But, the best way to ensure an app is compliant with the accessibility guidelines is through testing. First and foremost, accessible content must be perceivable, operable, understandable, and robust. To avoid legal trouble, realign your design efforts to make your mobile app encompass those standards.
Design Tips to Make An Accessible Mobile App
Here are a few things to consider when designing an accessible mobile app:
Provide transcripts for audio and video files

People with visual or hearing impairments need to be able to view or hear the app's content. To make sure the app is compliant, provide captions for any videos in your app and full-text transcripts for audio files.

Provide acceptable color contrast

Color blindness is one of the more common disabilities people face. Having an acceptable color contrast means that any visible text in your app can be seen clearly by any user over any color background. The colors in your app must meet the WCAG 2.1 AA color contrast requirements.

Provide easy to understand error messages

Error messages are crucial in letting users know what they did wrong and how to fix it. To make sure that people with disabilities can read the error messages, they need to be understood by screen readers and other assistive technologies. Additionally, avoid using red or green text to display error messages as color blind people may have a difficult time reading them.

Integrate your app with screen magnifiers

Apps need to be accessible to the visually impaired. Institutions need to ensure that their app works with enlarged text and inverted colors so that users can easily view the phone's display.

Integrate your app with screen readers

iOS and Android have screen reading capabilities built into their mobile phones. Screen readers allow the blind and severely visually impaired to use a smartphone without seeing it. VoiceOver (for iOS) and Talkback (for Android) allow users to interact with apps by touching the screen while the app reads the content back to the user.
Ready to Offer an Accessible Mobile App?
Help people with disabilities that use your mobile app and avoid expensive lawsuits by adhering to the accessibility standards. Accessibility isn't just a feature, it's a necessity. Incorporating all of the accessibility features into your app is challenging. To do so, you need to build your app with accessibility in mind from the very beginning. However, doing so is not only difficult but also time-consuming and expensive. On the other hand, buying a mobile app or utilizing a mobile app service provider that is accessible can be challenging as well. Offering your users an app that fails to meet accessibility standards can have financial and legal ramifications. This is why it is so important to choose a provider you trust that is aware of all accessibility requirements, such as ID123. ID123 has an expert team of IT professionals that strives to make all of our apps accessible from the very start. ID123 mobile apps are constantly being tested to ensure they can be used with ease by people with disabilities.