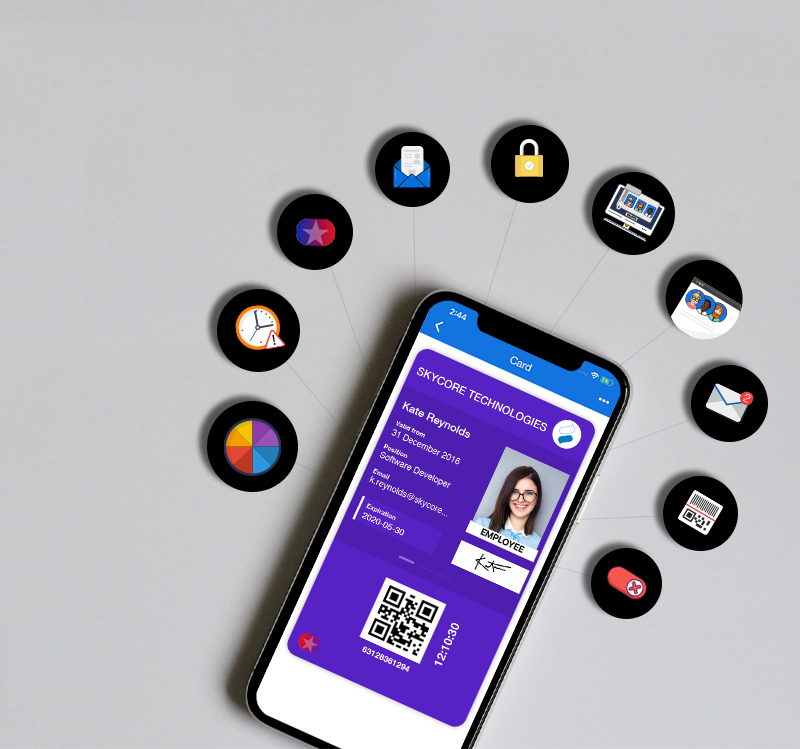 Employee IDs
10 Features Administrators Will Love When Issuing Digital ID Cards
Alicia Bustamante

•

June 25, 2019
Why Issue Digital ID Cards?
Digital employee ID cards can help business administrators to simplify the process of issuing and managing digital ID cards. With the ID Management System, admins can set expiration dates, send ID cards via email, revoke, renew, issue temporary IDs and do so much more! Read on to find out the ten features that you'll enjoy when issuing digital ID cards.
Ten features Business Admins will love
1- Temporary employee ID:
Contractors, guests, interns, and seasonal workers can receive a temporary mobile ID card that can expire automatically,  and it'll be instantly revoked or renewed, therefore, it will be efficiently managed by the business administrator via the ID Management System.
The digital ID card will instantly disappear from their device when the temporary employees' expiry date arrives. Consequently, the card will no longer be usable until it gets renewed again by the business administrator.
2- Hologram Animation:
Business administrators can verify that the mobile ID card is valid and not a screenshot.  The mobile ID cards have a rotating animation on display that allows security guards to see that the card is active. Administrators can customize the animation based on the company's colors or their personal preferences.
3-Customize Card Design:
Administrators can issue custom-made digital ID cards by personalizing the background colors, adding the business' logo, setting custom fields, and choosing a preferred barcode type. Also, this feature allows administrators to be more organized within the company, by creating a template with specific colors for each department.
4- Email card invitations:
Business Administrators can send the new digital IDs to their employees via email. Administrators can manage the email invites from the ID Management System and select the users that haven't received or install the digital IDs on their mobile devices.
5- ID photo zip upload:
Simplify your employees' photo submission. With this feature, admins can upload multiple photos at once via a Zip file or by entering the URL of a file hosting service (Google Drive, Dropbox)
6-Multi-user login:
Administrators can send invites through the ID Management System to multiple-users. The invited users that accept the invite can issue and manage digital employee IDs.
7- Security Questions:
To prevent non-employees from acquiring business IDs, administrators can set security questions that only their real employees will know.  Therefore, when employees download the app, they will have to answer the security question, and just after that, the digital ID card will download to their device.
8- App Activity Email Alerts:
Administrators will receive email alerts when significant activity occurs to the active ID cards in the app. Examples of warnings are new digital ID card created, duplicate ID card, and new ID photo submission.
9- Auto Generated Barcodes:
By enabling the auto-generated barcode feature, administrators can select their preferred barcode type, and each app user will obtain one unique barcode. Consequently, administrators can have a unique identifier for their employees and increase organization within the company.
10- Deactivate  Employee ID Cards:
Administrators can deactivate digital employee IDs at any time. The IDs will instantly be unavailable on the users' phone. If admins need the digital ID cards back, they can easily renew them from the ID Management System.
What are your thoughts?
Chat with us and share your thoughts regarding these features. Let us know what other features do you want your mobile ID cards to have!